When it comes to interior design, few materials evoke the timeless beauty and elegance of marble. However, the high cost and maintenance requirements of natural marble often make it an impractical choice for many homeowners.
Fortunately, the development of marble look porcelain tiles has revolutionized the market, offering a more affordable and durable alternative that faithfully replicates the allure of real marble. In this article, we will explore the many advantages of marble look porcelain tiles and their growing popularity in contemporary home design.
Visual appeal and variety
Marble look porcelain tiles excel in capturing the luxurious aesthetics of natural marble. Through advanced digital printing techniques, these tiles reproduce the intricate veining, tonal variations, and subtle textures that make marble so appealing. Whether you prefer the classic white Carrara marble, the bold drama of black marble, or the unique beauty of exotic varieties like Calacatta or Emperador, marble look porcelain tiles offer an extensive range of options to suit any design preference. With their ability to mimic the natural patterns and colors of marble, these tiles bring sophistication and elegance to any space.
Related article: A Vintage Touch in a Modern Room
Durability and versatility
One of the primary advantages of marble look porcelain tiles is their exceptional durability. Unlike natural marble, which is susceptible to scratching, staining, and etching, porcelain tiles are resistant to these common issues. Porcelain tiles are manufactured at high temperatures, resulting in a dense, non-porous material that can withstand heavy foot traffic, moisture, and even extreme temperature fluctuations. This durability makes marble look porcelain tiles suitable for a wide range of applications, from floors and walls in bathrooms, kitchens, and living areas to exterior cladding for both residential and commercial projects.
Low maintenance and longevity
Marble look porcelain tiles offer homeowners the beauty of marble without the high maintenance requirements. Unlike natural marble, which requires regular sealing and polishing, porcelain tiles are virtually maintenance-free. They are resistant to stains, mold, and bacteria, making them easy to clean with just mild soap and water. Additionally, the durability of porcelain ensures that these tiles can retain their pristine appearance for many years, even in high-traffic areas. The long lifespan of marble look porcelain tiles makes them a cost-effective choice for homeowners seeking a lasting investment.
Related article: Fashion Retail Store Design Inspiration
Environmentally friendly
In recent years, sustainability has become a crucial consideration in design choices. Marble look porcelain tiles offer an environmentally friendly alternative to natural marble. They are primarily composed of clay and other natural materials, and the manufacturing process requires less energy and water compared to mining and processing natural stone. Additionally, porcelain tiles can be recycled at the end of their lifespan, reducing waste and contributing to a greener future.
Related article: The Right Choice for a Healthy Lifestyle
Marble look porcelain tiles have revolutionized the world of interior design by providing a cost-effective, durable, and visually stunning alternative to natural marble. With their ability to replicate the timeless elegance of marble while offering practical advantages, these tiles have become a preferred choice for homeowners and designers alike, adding sophistication and luxury to any space.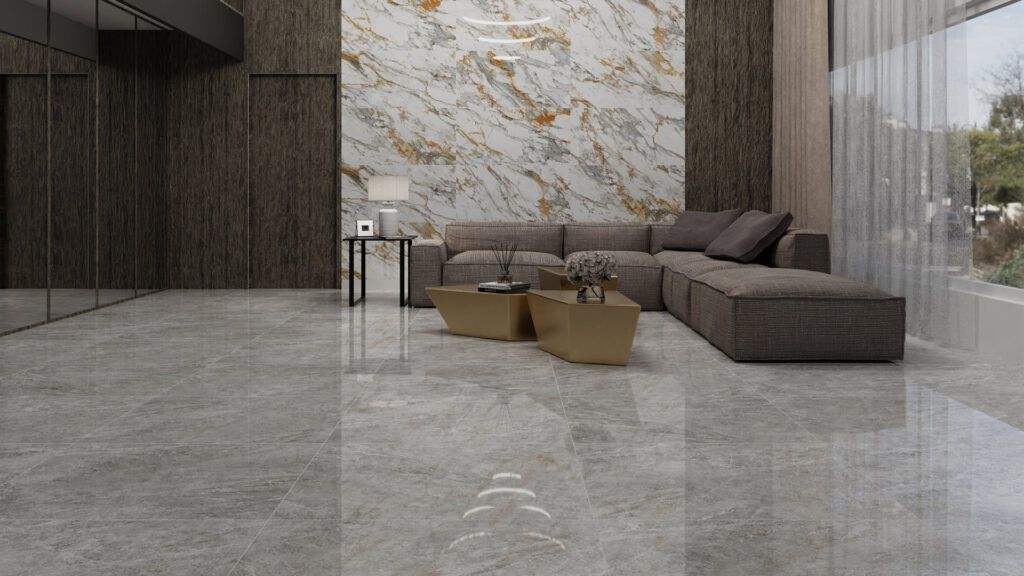 RomanGranit: Setting the standard for quality in marble look porcelain tiles
Marble look porcelain tiles from Roman (called as RomanGranit) are a popular choice for those who want the elegance and beauty of natural marble but with the added durability and ease of maintenance that porcelain offers. Roman is a well-known brand that specializes in manufacturing high-quality porcelain tiles with marble-like appearance. Discover hundreds of marble look porcelain tiles at Roman.co.id
Roman products have a high reputation and well recognized in the international market. The fact that Roman has been exported to more than 90 countries for over 35 years is a testament to its quality. Some of them are Singapore, Japan, Australia, Italy, and the United States, all known for its stringent quality requirement. Roman is also the only brand of ceramic tiles from Indonesia that regularly participates in Cersaie, the most prestigious ceramic industry exhibition in Italy.
Roman was established in the 1970s. Its glazed porcelain tiles and ceramic tiles is produced at factories located in Balaraja – Tangerang, West Java and Mojokerto – East Java. Throughout its journey, Roman focuses on creating high-quality products that set the benchmark in the industry. Roman is dedicated to fulfilling your aspirations for high quality added value porcelain tiles and for perfection.