Shopping activities are inseparable in our lives. Whether to procure basic needs or to fulfill desires, shopping is known to be effective in increasing the hormone dopamine, diverting feelings from anxiety and improving the mood.
The ever changing technology has changed the behavior of how consumers do shopping. Now, a person can simply access a variety of online apps in their own gadget. Especially during the pandemic like COVID-19.
However, friends of Roman does not need to worry! In the midst of the rise of online stores, shopping activities at offline stores or at retail stores are still an option for consumers. Some conveniences are found when visiting retail stores, especially to buy products that should be tried directly to avoid buying the wrong material and size, such as shoes and clothes. This shopping activity cannot be replaced by online stores, so of course retail stores still have a good opportunity to attract consumers.
Therefore, don't waste this opportunity! Provide the best experience for every shop visitor who comes. In addition to friendly service, a comfortable and cool interior design is also able to attract consumers to come to your store.
Determining the interior design of the store is as important as the product being sold. So rethink how the concept and feel that you will present in the store. Also adjust the products like what you will offer. For example, shoes and clothes. These fashion products have various types, functions, and styles. So that each type will of course affect the determination of the interior design concept. Come on, just check out some of the following fashion retail store design inspirations!
1. Sports Shoe Store Design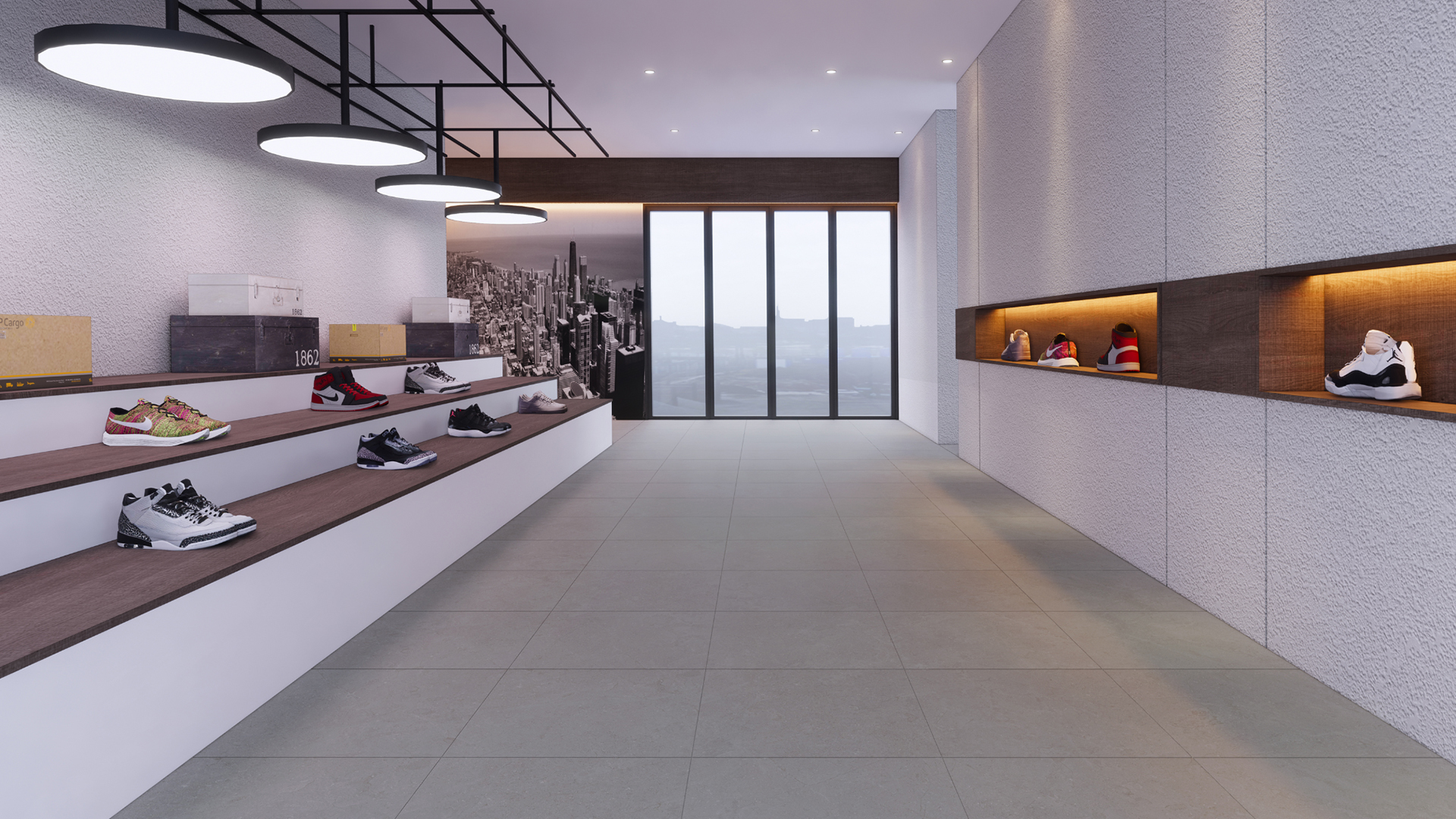 Determining the concept of interior design can be started by looking at how and who the target buyers are. Like the sports shoe store below, which has a target buyer with a hobby of sports or who enjoys physical activity. A simple design with neutral color materials such as the selection of dFosdinovo granite tiles is suitable to represent the character of sportsmanship.
2. Women's Shoe Store Design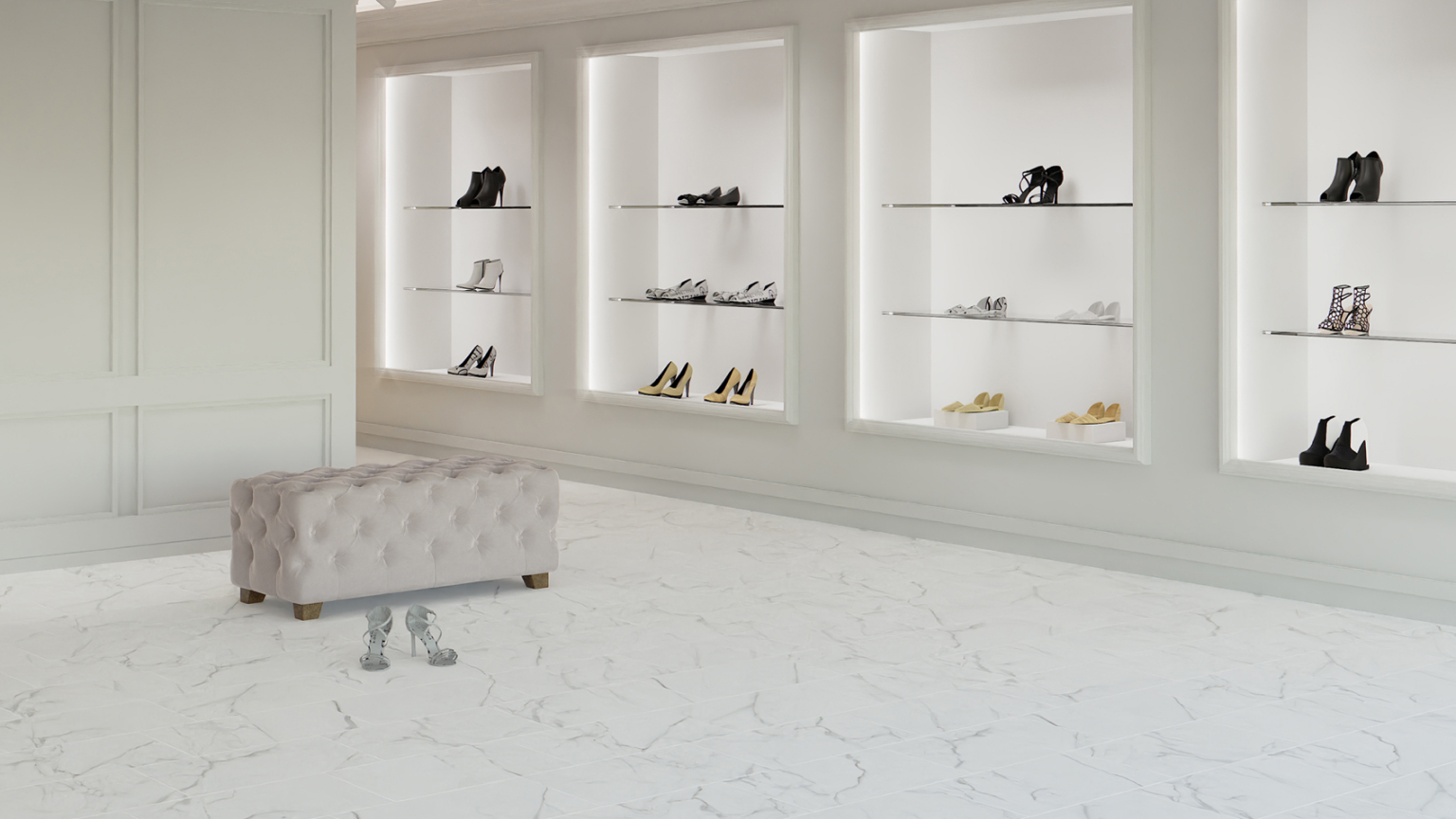 For those of you who have a brand of women's shoes with a feminine and soft character, you can give a white feel to the store interior design. Combine the luxurious pattern of the marble motif with the soft strokes of the Calacatta granite tiles as below and don't forget to pay attention to the lighting to sweeten your shop even more.
3. Women's Fashion Store Design with Earth Tone shades
In choosing an interior design concept, you can also see in advance what kind of model or product concept that will be offered to visitors. If you have fashion products such as clothes, women's shoe bags dominated by earth tone colors, then you can also harmonize your interior design by choosing its matching colors. Earth tone colors such as pastel, light brown, dark green, orange brown or beige can also strengthen and reflect the professionalism of women who still have a soft side.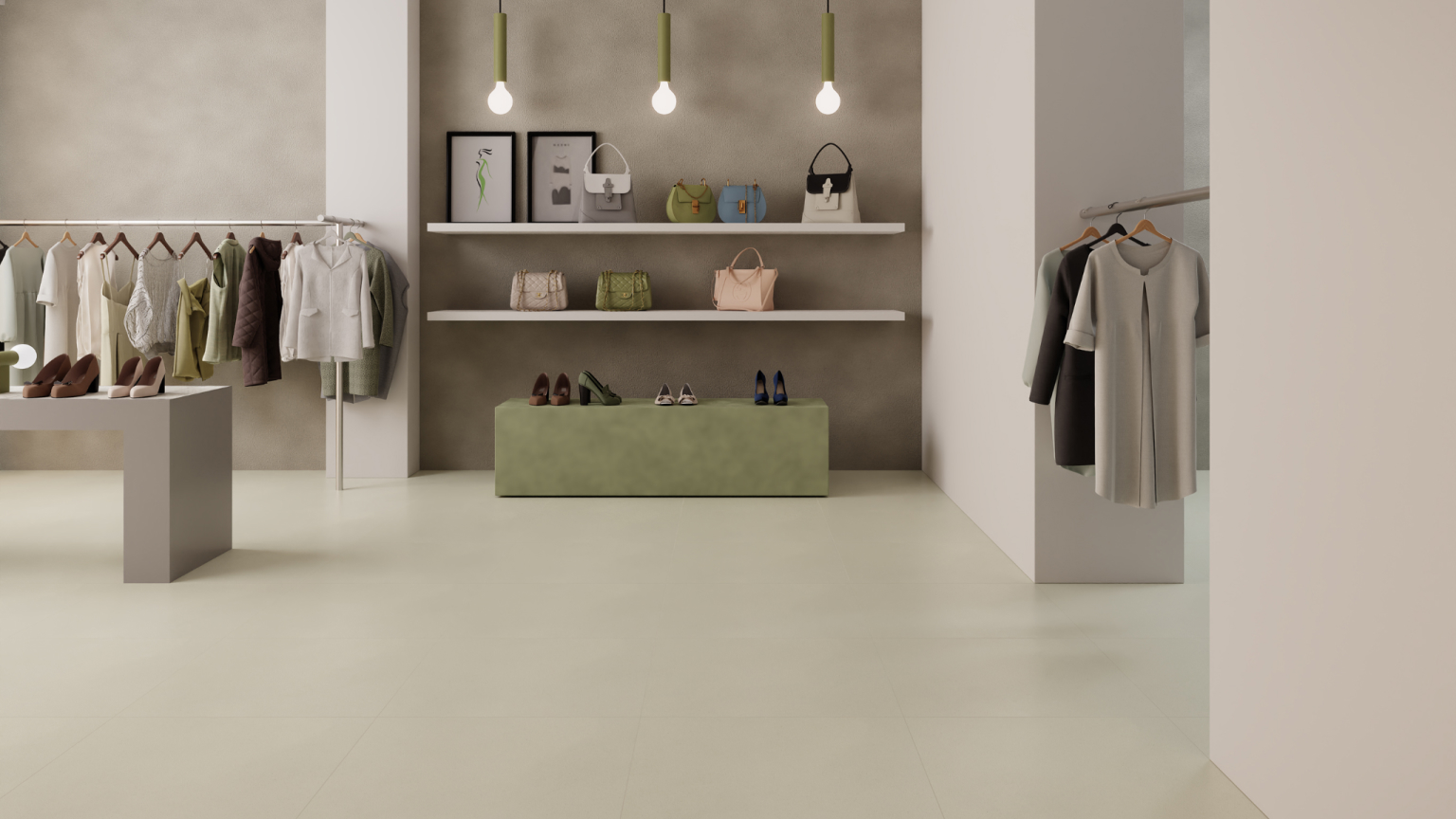 4. Women's Fashion Store design with Monochrome Concept
The dominant black and white nuances in the products in this store require a touch of neutral colors so that visitors can focus on their products. dBrescia accents the floor because of its random pattern but still in harmony with the concept of the space.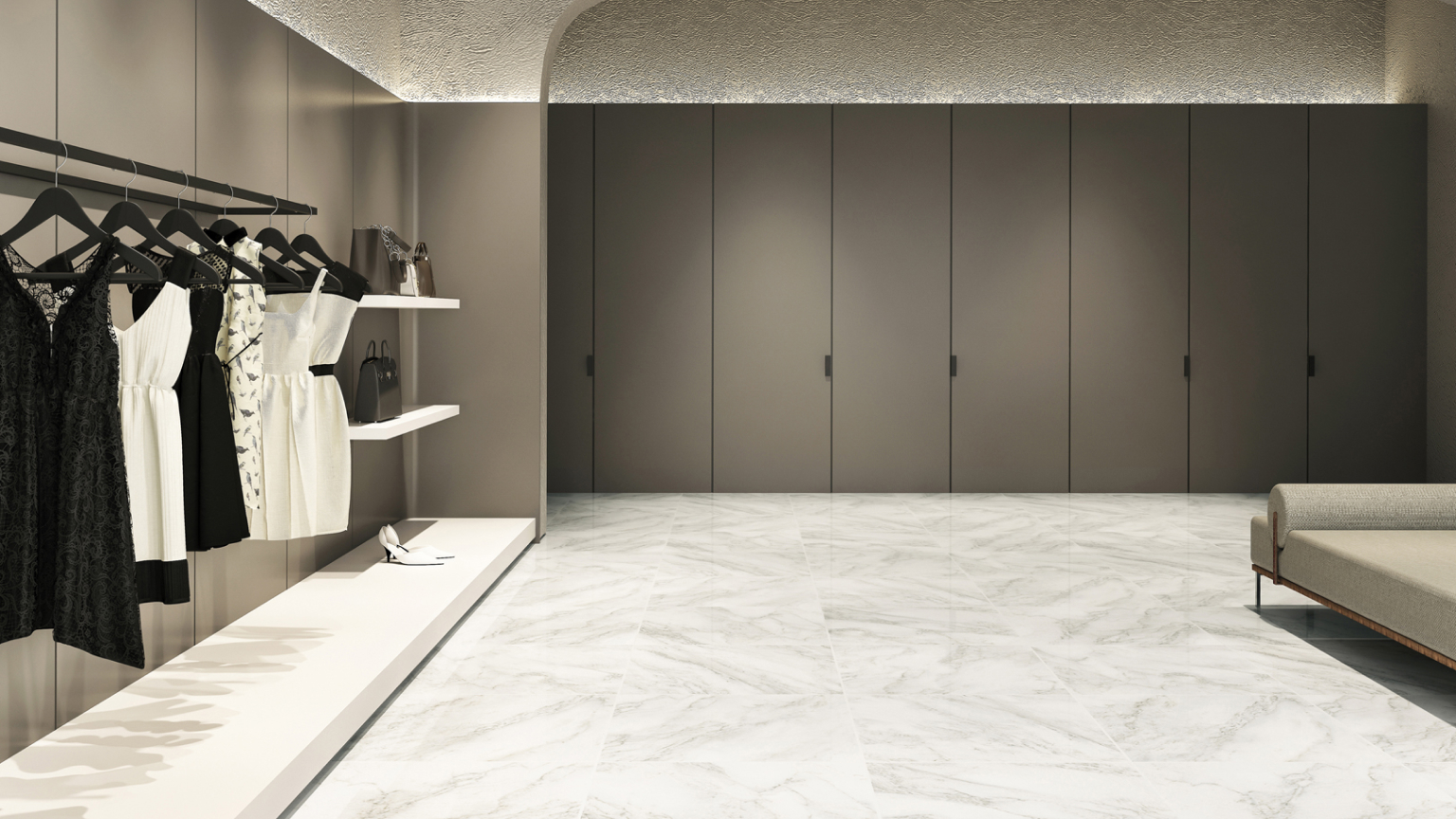 5. Women's Clothing Store design with a Luxury Concept
Products with a luxury theme are suitable to be presented in elegant and classy gold nuances. The gold nuance appears as an accent on the display material combined with yellow lighting that will bring out its luster. On the floor, neutral color Crema granite tiles are used.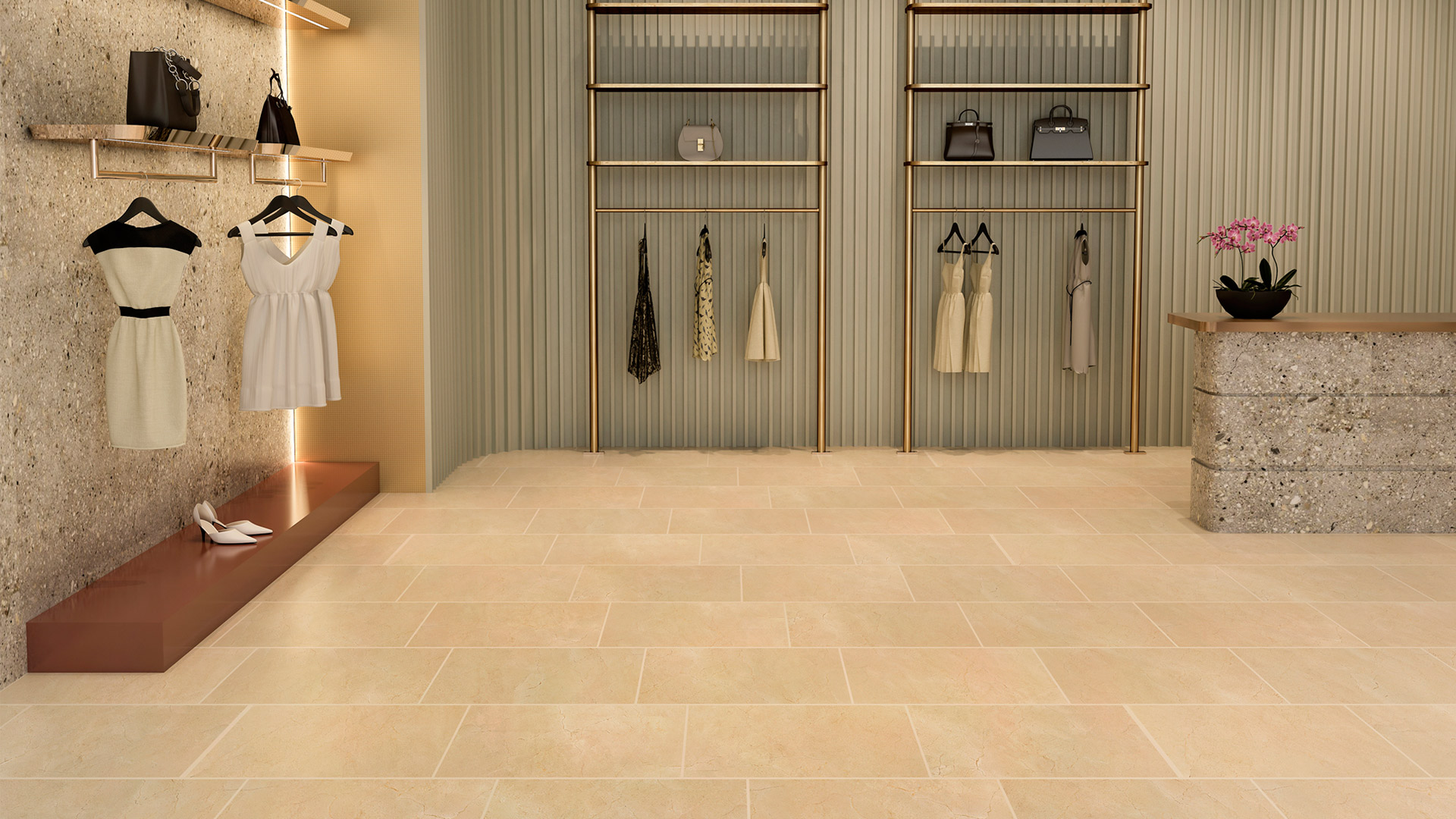 Have you already got an idea how to design your retail store attractive? Have a go, immediately realize your design with RomanGranit! Visit one of our House of Roman spread across Indonesia.