Outdoor porcelain tiles have become a prominent choice for homeowners seeking robust and aesthetically pleasing flooring for their outdoor spaces. These tiles stand up to the challenge of the outdoors with their enduring strength, remarkable resistance properties, and easy maintenance. This article provides a detailed guide on the versatility of outdoor porcelain tiles and why they are an excellent fit for your exterior spaces.
Resilience to weather conditions
One of the significant considerations when selecting outdoor flooring is its resilience to weather conditions. Outdoor porcelain tiles excel in this regard, with their robust structure that can withstand direct sunlight, heavy rain, and even the harshness of winter snow. This durability makes them a suitable choice for exterior spaces in all types of climates.
Related article: Marble Look Porcelain Tiles, A Solution for Stylish and Low-Maintenance Interiors
In areas such as garages, where the flooring bears additional load from parked vehicles, the strength of outdoor porcelain tiles plays a crucial role. Not just limited to the surface, this strength extends to the construction beneath the tiles, providing adequate support and ensuring long-lasting durability.
Catering to High Traffic Areas
Outdoor areas, especially those that serve as pedestrian paths or parking spaces, often experience high traffic, leading to more pressure and friction on the flooring. The robust nature of porcelain tiles makes them ideal for these high-usage areas. They can handle the extra load and friction without compromising their appearance or structural integrity.
Related article: A Vintage Touch in a Modern Room
Ensuring Safety with Non Slip Tile
Safety is another crucial factor when it comes to outdoor flooring. Rainfall can make floors slippery and hazardous. Outdoor porcelain tiles with an anti-slip surface can mitigate this risk. Tiles with structured surfaces offer excellent slip resistance, ensuring safety for all users, even under wet conditions.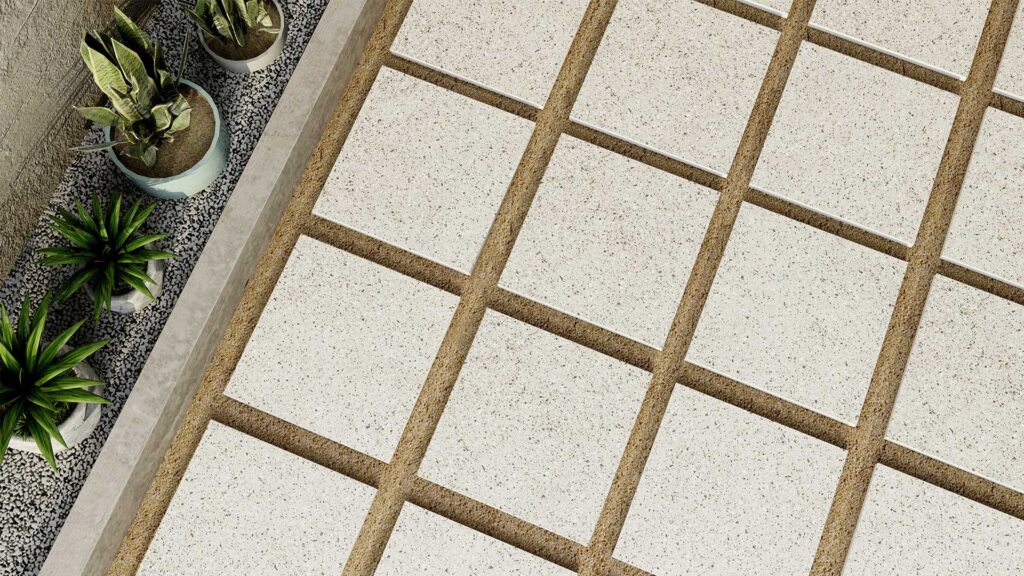 Outdoor porcelain tile: dTidore Avorio 30×30 cm (RomanGranit HardRock)
Easy Maintenance
Outdoor spaces exposed to rain can become breeding grounds for moss or mold, necessitating regular special maintenance and additional costs. However, outdoor porcelain tiles are not easily affected by such growths, making their maintenance minimal and straightforward. The ease of cleaning and maintaining these tiles translates into cost-effectiveness over the long term.
Porcelain tiles offer a plethora of advantages for your exterior spaces. They provide strength, superior resistance to stains and scratches, slip resistance, and ease of maintenance. With these features, outdoor porcelain tiles are a sound investment for your outdoor spaces, ensuring both durability and aesthetic appeal.
The Superiority of HardRock Porcelain Tiles
For the best outdoor porcelain tiles selection, you can explore various collections from RomanGranit. One of its prominent offerings is the HardRock category of porcelain tiles, a technological breakthrough in outdoor flooring material. These tiles can be applied to floors and walls in outdoor areas, suitable for both residential and commercial properties.
Assuredly, the HardRock porcelain tiles meet all the ideal criteria for outdoor flooring as discussed above. HardRock tiles come with a thickness of 2 cm, ensuring extreme durability. This collection also boasts an extremely high level of slip resistance, stain resistance, and abrasion resistance. Its water absorption rate is remarkably low, at less than 0.50%. With HardRock's non-porous surface, staining is prevented, and it inhibits the rooting of moss and fungi on its surface.
There are 17 HardRock porcelain tile collections available in sizes of 30×30 cm, 60×30 cm and 60×60 cm for selection. These various styles offer a multitude of aesthetic options, allowing you to choose the perfect design that seamlessly integrates with your outdoor decor. To explore the complete collection of HardRock porcelain tiles, you can visit RomanGranit's HardRock Collection.
The RomanGranit HardRock collection of outdoor porcelain tiles truly exemplifies the advantages of porcelain as an outdoor flooring material. Its robust properties, combined with its versatile aesthetic appeal, make it an ideal choice for those seeking to enhance their outdoor spaces.
In conclusion, when considering your next outdoor renovation project, porcelain tiles, and in particular, collections like RomanGranit's HardRock series, should be high on your list of options. It offers the ultimate blend of strength, beauty, versatility, and longevity, setting the stage for a truly enchanting outdoor living experience.