The interesting inspiration this time came from the consulting bureau Studio Piu who discussed his design works at the 6th Roman Webinar event, December 16, 2021. Mondrich Syarief, the Principal Designer of Studio Piu, acted as a resource person. Mondrich recounts his career experience as an Interior Designer in Singapore and Hong Kong, as well as how Studio Piu was founded.
In this webinar, he shared his experiences with the participants, namely architects, interior designers, and students in the field. He reminded designers or prospective designers to not only design aesthetically but also to understand the technical aspects, because 70% of the battles are technical issues, and also about certification.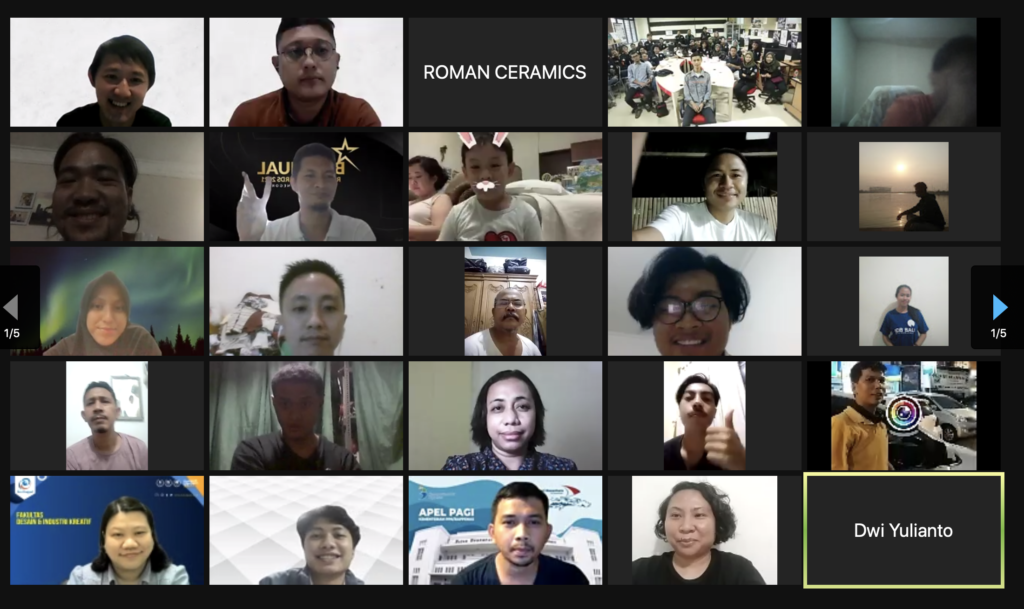 About the core DNA of Studio Piu itself, among others, is a storyline (has a strong concept and narrative), user-centered design (who is the user), each design must be unique, and must always be attached (pay attention to functions, proportions, details and so on). -others that are always retested to be absolutely correct). Mondrich also told several projects handled by Studio Piu.
Le Garden Food Gallery
This project is a food court in Palembang. Early in the design process, Studio Piu envisioned this place as a playful place, inspired by personal childhood memories that are always fun. Departing from this concept, the atmosphere that is built takes ideas from places and events such as birthday parties, playgrounds, or gardens.
The playful atmosphere in this project is translated through colorful interior and furniture designs, full of play ideas. For example, the ceiling design is inspired by the origami game. As in a theme park, every corner or place has a different theme and is full of surprises.
Uniquely, every large column in the room is always processed into interesting corners, so the structure is no longer a nuisance in the design. In this space, the columns are part of the diner's dining area with appropriate decorations.
Coffeeright PGV
The next project is a cafe located in the Marketing Gallery area in the Cimanggis area. The site has a beautiful landscape quality and can be used for a cafe view. The client requested that the cafe not stand out from the main building. Therefore, the game of color was chosen neutral colors from wood and cement. The visitor area has a glass box concept so it doesn't really feel like indoor and outdoor. This glass box is also a symbol of the housing unit, which is the main product offered by the client.
COFFEE RIGHT
Become one of the memorable projects for Mondrich Syarief. This cafe is interesting because it is in a busy location but in terms of business it has not been running properly. Even though it was built in a shophouse, Mondrich wanted to keep giving his coffeeshop an identity that made people recognize him as a coffeeshop. Created a bar and interior that is cozy, friendly, simple and simple with indoor and outdoor.
So in realizing the concept, the neutral color on the floor tiles from RomanGranit was chosen first because it is the main basis or reference for the interior design of this café. With the available RomanGranit products, Mondrich feels it is easier to choose other aspects of the interior.
Novotel, Cikini
This hotel in Cikini has a masculine concept which is translated into the theme of a fashion show for men. To support this theme, geometry, textiles, with appropriate colors and materials are used. The theme of geometry and textiles is embodied in chevron motifs that are like stitches or woven, as seen in the ceiling and partition designs in the restaurant area.
The design in the room area remains with a textile theme with artwork typical of the Cikini area.
This webinar is very useful for architects and interior designers, as well as design students. Watch the full video on Roman Ceramics' Youtube Channel. Click here to start watching, Friends of Roman!
Don't miss the next Roman Webinar, follow Instagram @roman.co.id and get information about the latest events!