Hexagon tiles have gained immense popularity in recent years. Interior designers and architects are using hexagonal tiles as a focal point in their projects, adding a touch of modern elegance to spaces. This versatile flooring option has made its way into both residential and commercial spaces, including hotels, restaurants, and retail stores.
Its unique shape, versatility, and visual appeal make hexagonal tile a standout option in contemporary interiors. From its ancient roots to its modern applications, hexagonal tile continues to captivate designers and homeowners alike.
History and Origins
Hexagonal tiles have a rich history that dates back to ancient times. The use of hexagons in design can be traced back to ancient Rome, where they were prominently featured in mosaic art. Over the years, this geometric shape has continued to captivate designers, evolving into a contemporary flooring solution that combines aesthetics and practicality.
Related article: 10 Stunning Shower Wall Tile Options to Consider
The Optimal Choice for Stunning Flooring
Hexagonal ceramic tiles add a unique and captivating aesthetic to any space. The six-sided shape creates a visually stunning pattern that instantly draws attention. The precise and symmetrical design of hexagonal tiles allows for endless possibilities in creating eye-catching layouts and patterns. Whether you opt for a simple grid or an intricate mosaic-like arrangement, the beauty of hexagonal tiles is sure to enhance the overall ambiance of your space.
Related article: Porcelain Wood Tile, The Perfect Solution for a Durable and Aesthetically Pleasing Floor
Durability and Practicality
Ceramic tiles are renowned for their durability, and hexagonal ceramic tiles are no exception. They are resistant to scratches, stains, and moisture, making them ideal for high-traffic areas and spaces prone to spills, such as kitchens and bathrooms. Ceramic tiles are also easy to clean and maintain, ensuring that your flooring remains in excellent condition for years to come. The durability and practicality of hexagonal ceramic tiles make them a smart investment for both residential and commercial spaces.
Related article: Make a Lasting Impression with Porcelain Garage Floor Tiles
Roman Hexagonal Tiles
While the availability of hexagonal tiles from various brands may be limited, Roman stands out as a trusted manufacturer offering a range of high-quality options. Roman's hexagonal ceramic floor tiles, with their beautiful patterns and 20 cm per side dimensions (34×39 cm outer dimensions), provide a reliable and stylish choice for your flooring needs. You can trust Roman to deliver both aesthetics and quality, ensuring your space is adorned with elegant and durable hexagonal ceramic tiles. Here are the recommendations for Roman's hexagon ceramic tiles!
dCampanili
dModesto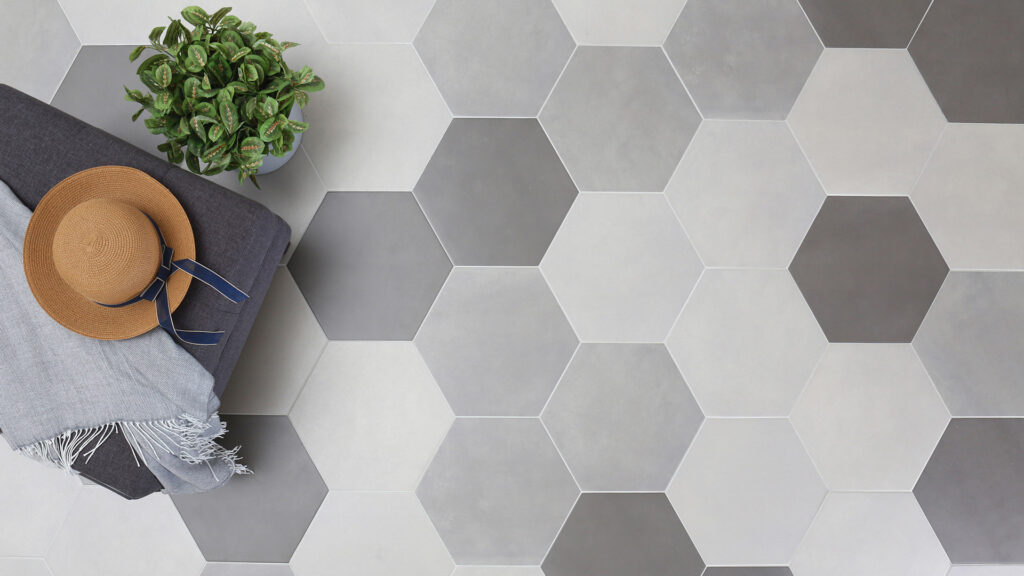 dSantorini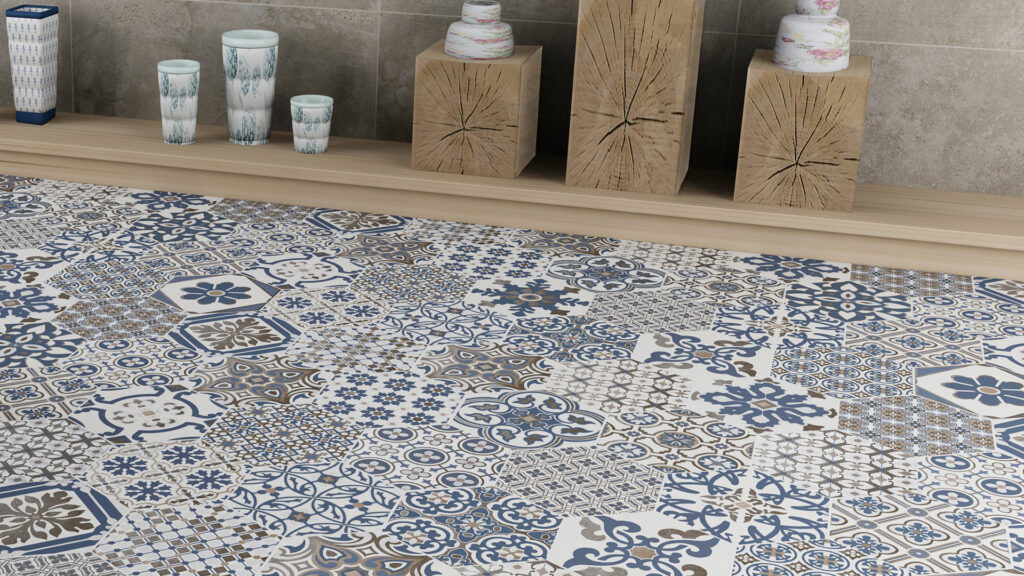 dTravessa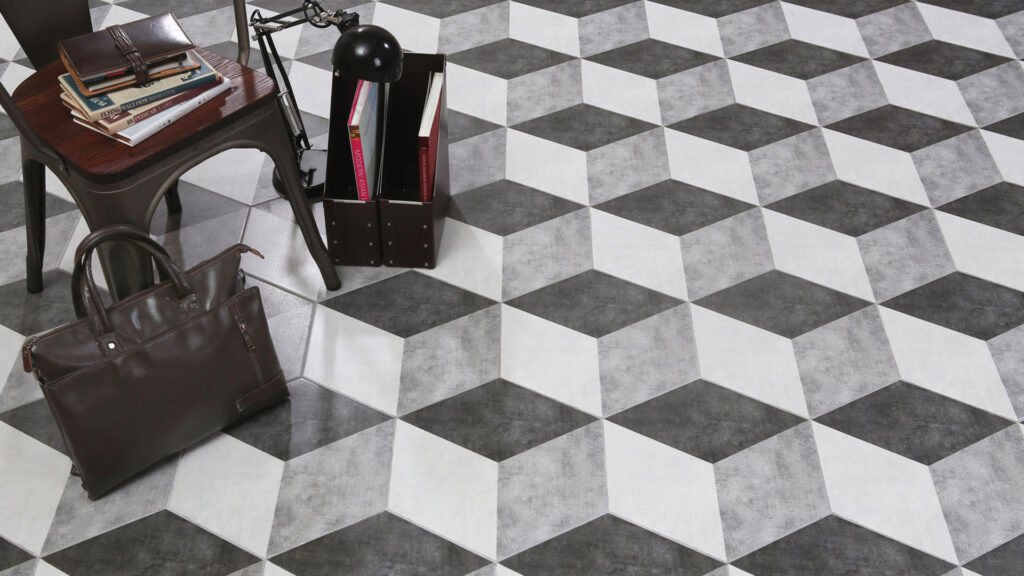 Floor tile dTravessa 34×39 cm (Roman Hexagonal Tile)
dTribeca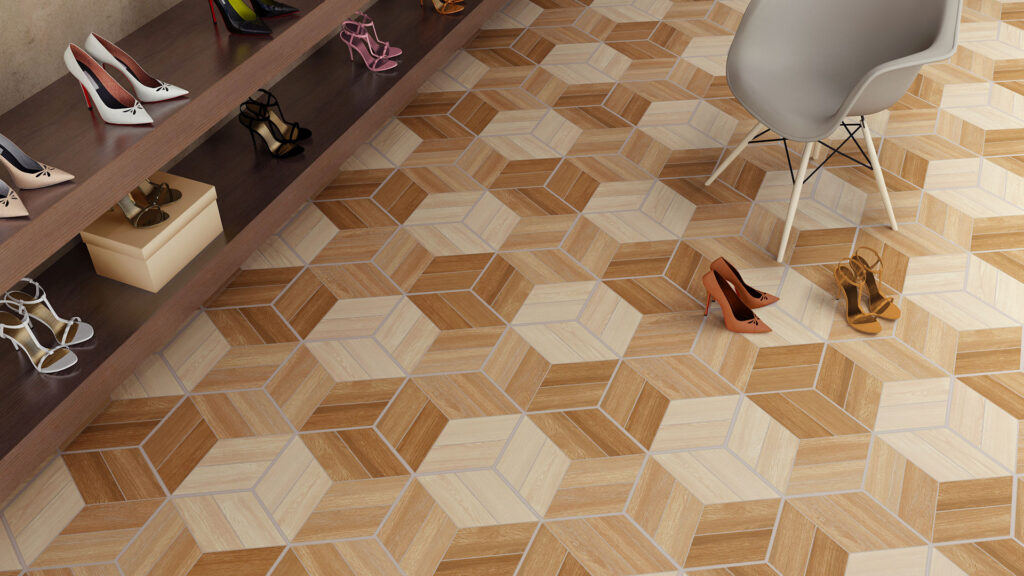 With Roman Hexagonal Tiles, you can confidently transform your space into a stylish and captivating environment that reflects your personal taste and style. To explore the complete collection of Roman Ceramics and RomanGranit, you can visit www.roman.co.id.